This week's 'What's on the Menu' has taken forever to write – and I've only written these few words so far. It's Sunday afternoon and I'm sat on the sofa while Rob is cooking a roast chicken. Unfortunately, War Horse is on TV and I've spent much of the last half hour blubbing like a baby. That film gets me right in the feels everytime I watch it.
Anyway, back to this week's meal plan – let's get to it! Once again I'm linking up with Katy Kicker for her meal planning linky.
What's on the Menu This Week? w/c 5th November
Monday 5th – Chicken and barley stew using leftover chicken from Sunday's roast.
Tuesday 6th – I'm out at a restaurant launch so shall be nomming on canapes mostly.
Wednesday 7th – Tomato tart, new potatoes, and salad
Thursday 8th – Autumn Minestrone Soup
Friday 9th – Fish and Chips
Saturday 10th – Lewis Salad (this post explains what's in a Lewis Salad- hint: there's hardly any salad in it)
Sunday 11th – Pork chops, Hasselback potatoes, and veg. I'm thinking about adding a sauce to the chops, but not sure what type yet.
That's it for this week's meal plan. I'm still trying to have a few meat-free days a week – I don't think any of us felt like we missed meat on the days we didn't have it last week, and I'm enjoying browsing my recipe books and Pinterest for new recipes to try out.
I'm always keen to try out new recipes so if you have any family favourites, meat-free or not, then please do let me!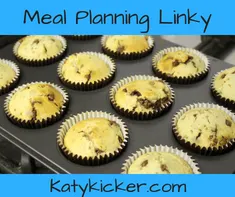 Pin me for later: